Laser Therapy at Bemis Family Chiropractic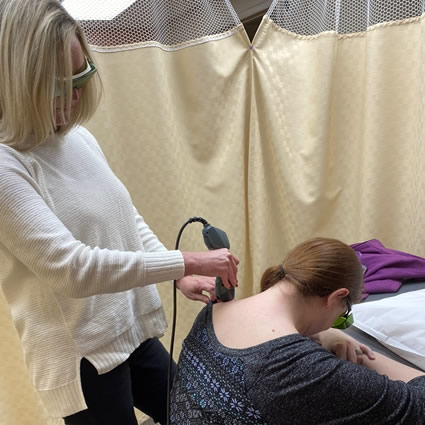 In addition to chiropractic adjustments, Bemis Family Chiropractic is thrilled to offer laser therapy as an additional benefit. MLS Laser Therapy is used to minimize pain and inflammation. It uses concentrated light energy to help the body heal.
Here's How it Works:
MLS Laser Therapy activates the lymphatic drainage system allowing patients to experience a reduction in swelling that is caused by bruising or inflammation.
MLS Laser blocks pain because it's beneficial to nerve cells.
The light penetrates deeply into soft tissues, which allows any damaged cells to repair. In addition, the laser light supports the formation of new capillaries and helps reduce scar tissue, which makes it a great treatment for surgical patients.
MLS laser targets the same trigger points that acupuncturists use. It is another form of holistic health care.
Frequently Asked Questions
We've compiled a list of commonly asked questions about MLS Laser to help you better understand this exciting technology:
What makes MLS therapy so beneficial?
Because laser therapy doesn't require any drugs or surgery, there aren't any side effects. Some studies have shown that laser therapy is more effective than physical therapy. MLS laser therapy is also very quick! It usually only takes 10 to 15 minutes. Patients generally receive laser therapy from
Dr. Ryan
two to three times a week for four weeks.
What does it feel like to experience a laser treatment at Bemis Family Chiropractic?
It's very relaxing. Most patients don't experience any sensation during the treatment.
How soon until I notice results?
Everyone is different, of course and a lot depends on the condition being treated. Usually patients will experience relief and reduced pain reduction after the first and second treatment. For others, it might take longer. The typical treatment protocol is between 6 and 12 visits. Dr. Ryan can have a longer conversation with you about your personalized plan.
How do I know if I am a good candidate for laser therapy?
Ask Dr. Ryan at your next visit. He will evaluate your condition and perform a laser therapy examination and will share his recommendations with you.
Call us to schedule your free consultation!
CONTACT US »
---
Laser Therapy Alton IL | (618) 433-9333